Rare Photos
Random photos that should serve to jog Penn State fans'memories a bit …..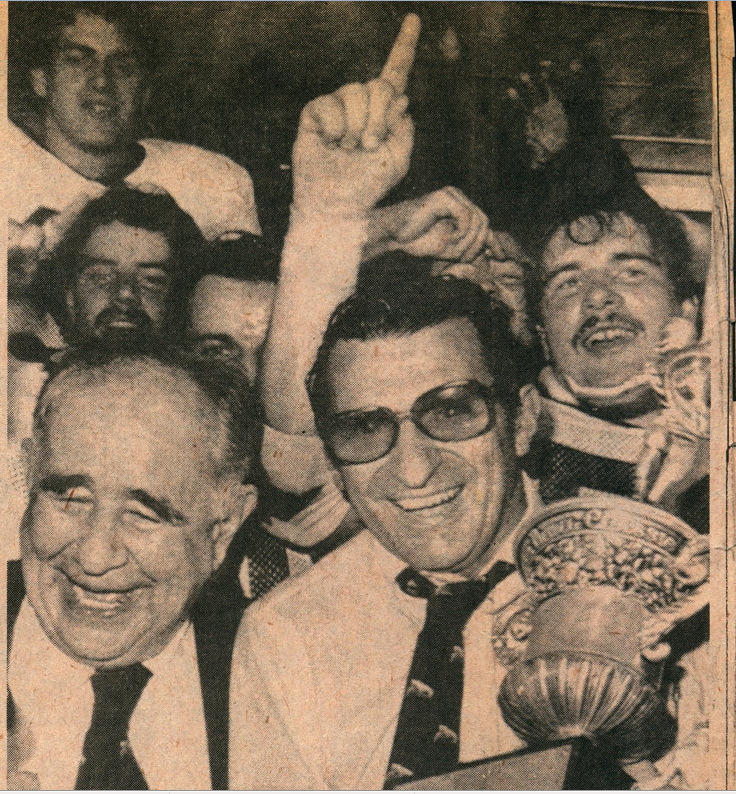 Mark Battaglia made sure fellow classmate Frank Rocco's elbow pad artwork was front and center during the post=game locker room celebration.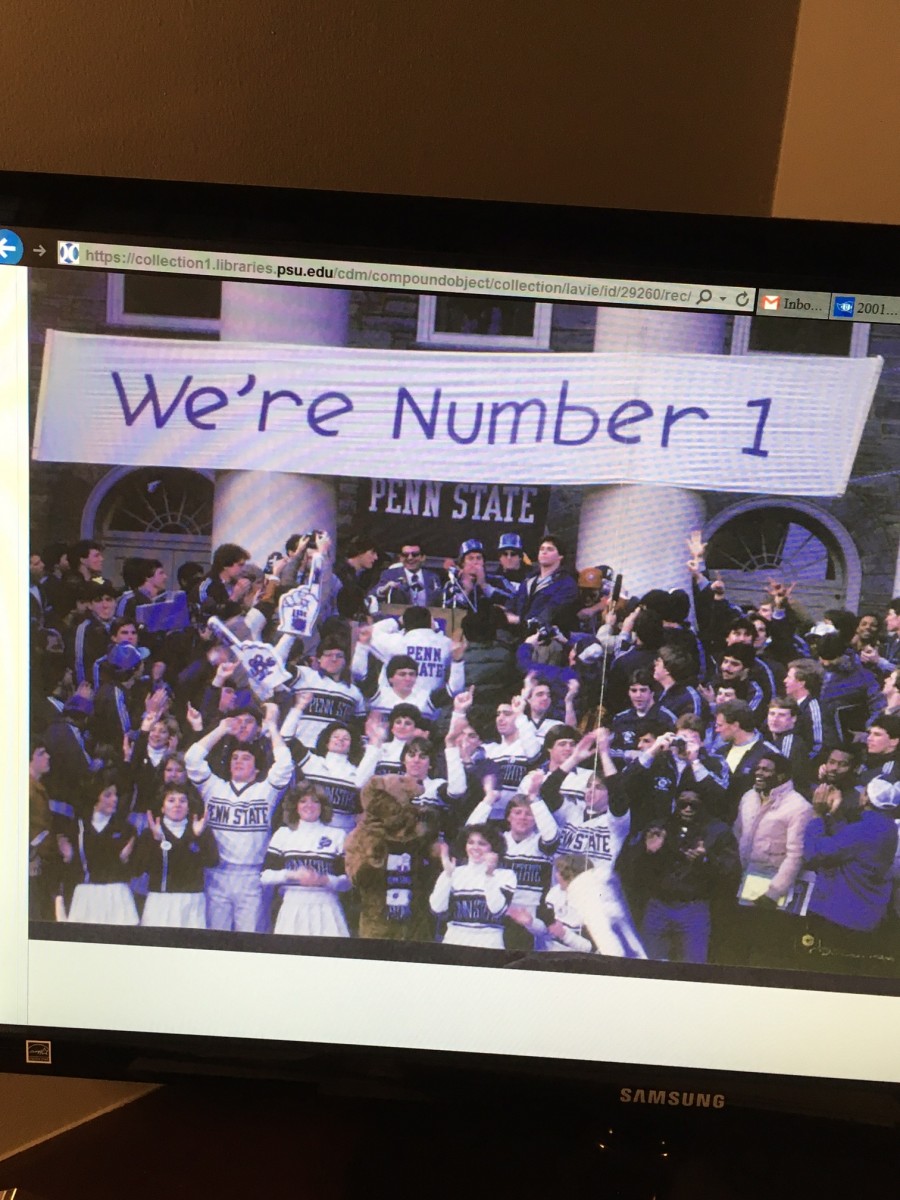 An overflow crowd populated Old Main lawn as well as the steps of the iconic building. It was a pretty amazing early January outdoor Monday afternoon pep rally given the relatively short notice.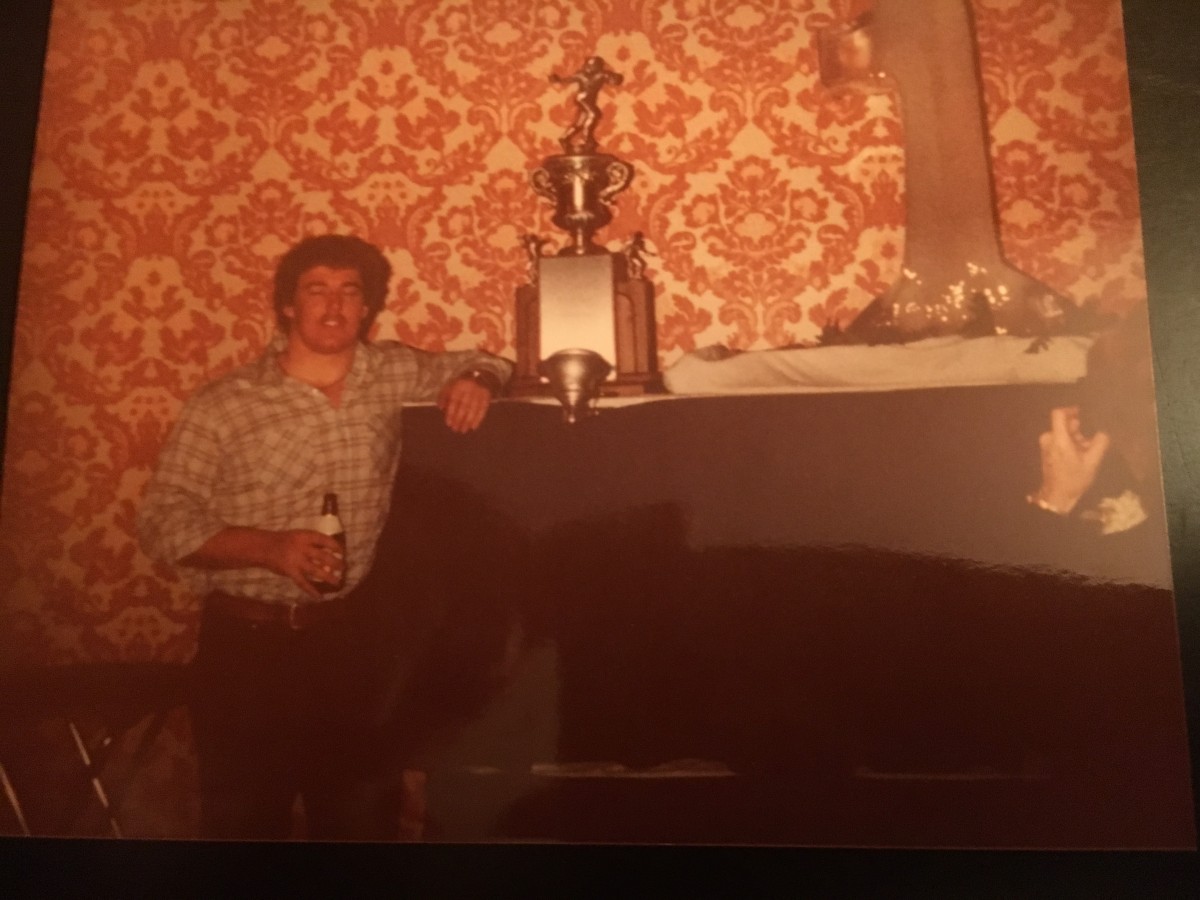 Co-captain & fifth-year senior Ken Kelley didn't have a set position when he reported to Penn State. He manages to position himself quite nicely next to the Sugar Bowl trophy at the post-game party in the ballroom of the New Orleans Hilton.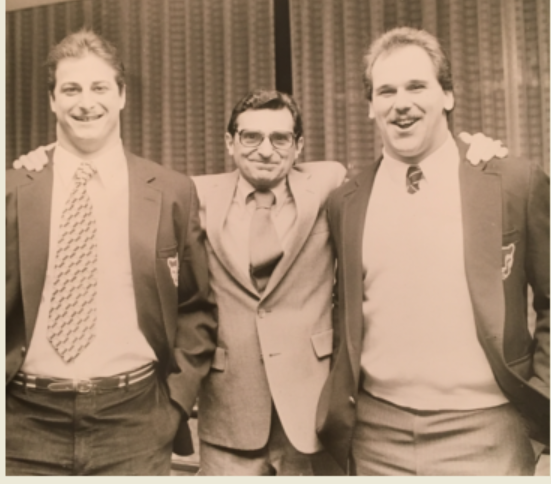 Parlavecchio, Paterno, D'Amico…evidently your last name had to end in the letter 'o' to be included in this pic taken in January, 1982. The look on Joe's face is priceless – it's as if he's saying "What the hell was I thinking RECRUITING these guys ?!?"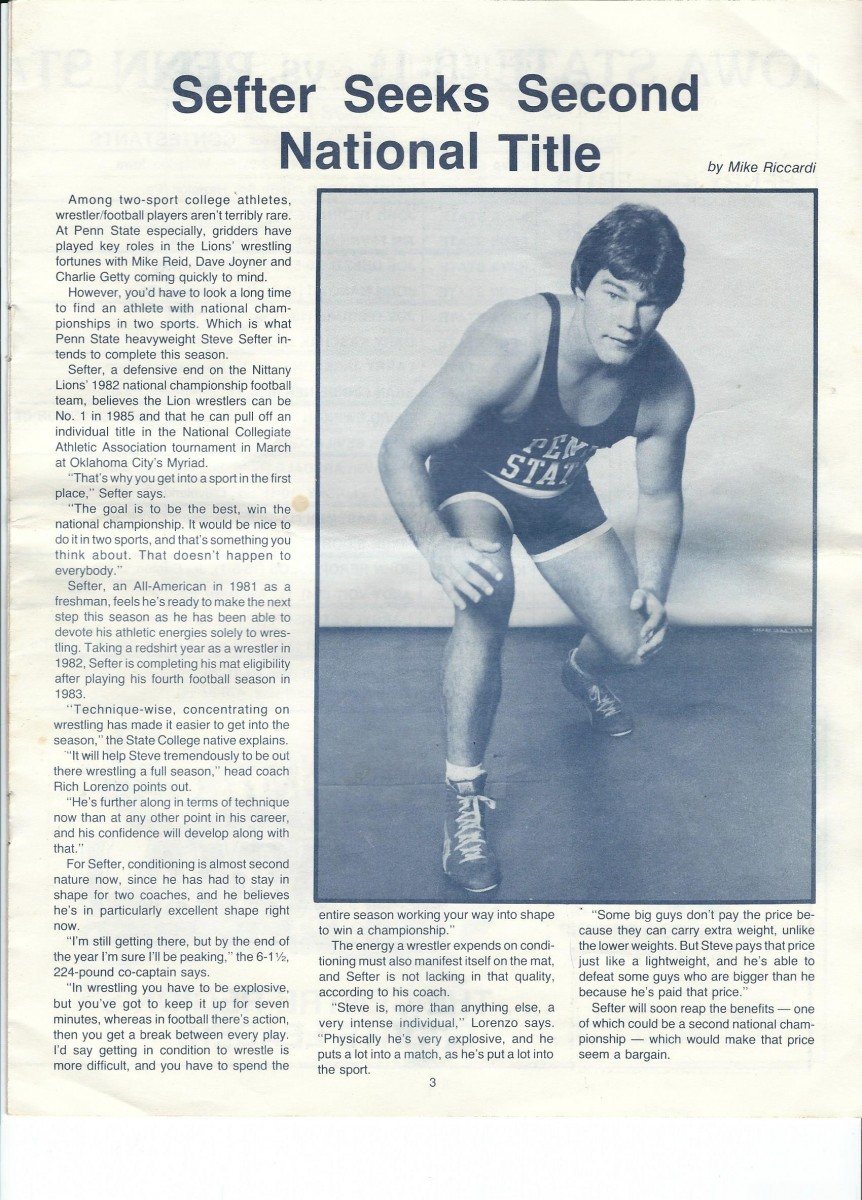 Despite little prior game experience Steve Sefter became a solid defensive end. Very few of us realized he was also a great NCAA heavyweight wrestler despite tipping the scales at around 230 pounds.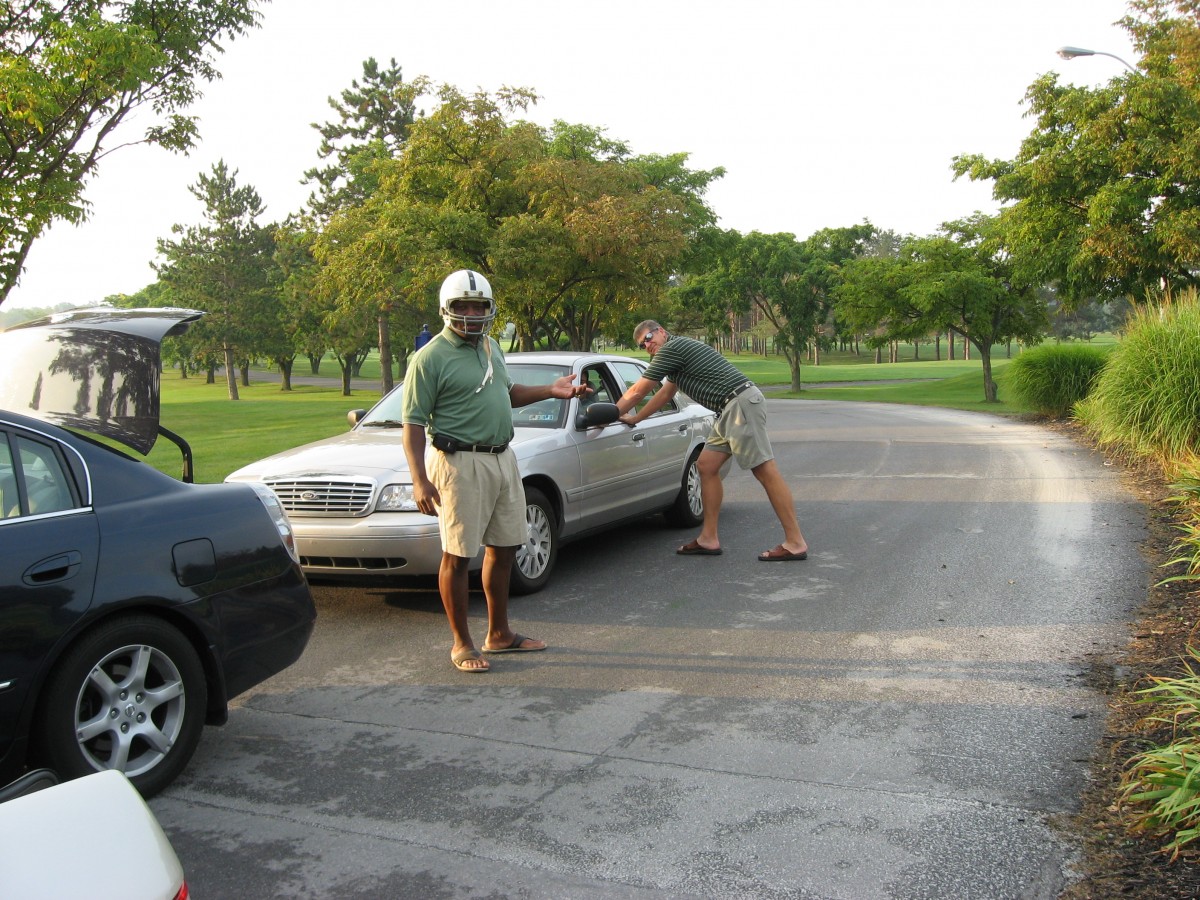 Jon Williams welcomed teammates in his own unique style to the PSU Golf Course on the eve of our 25-year reunion. Williams would have been the feature back at a lot of D-I schools. and was one of several underclassmen who made significant contributions to our 1982 success.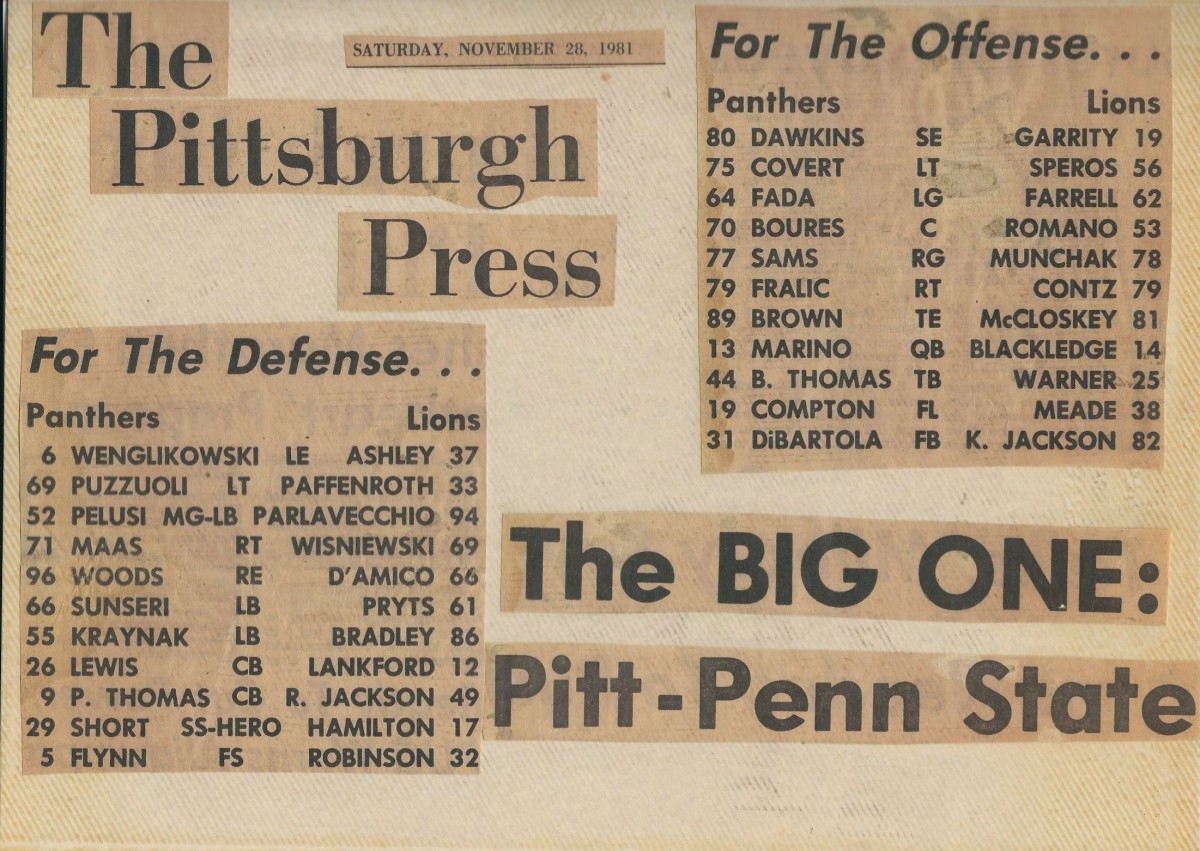 The significance of the 1981 game vs. #1 Pitt was not lost on the local media as the Pittsburgh Press posted the starting lineups on their FRONT page the morning of the game. Interesting to note that WR Dwight Collins scored both Pitt TD's but was not listed as a starter. If so it would meant that 20 of the 22 offensive starters in this game would eventually be chosen in the NFL draft.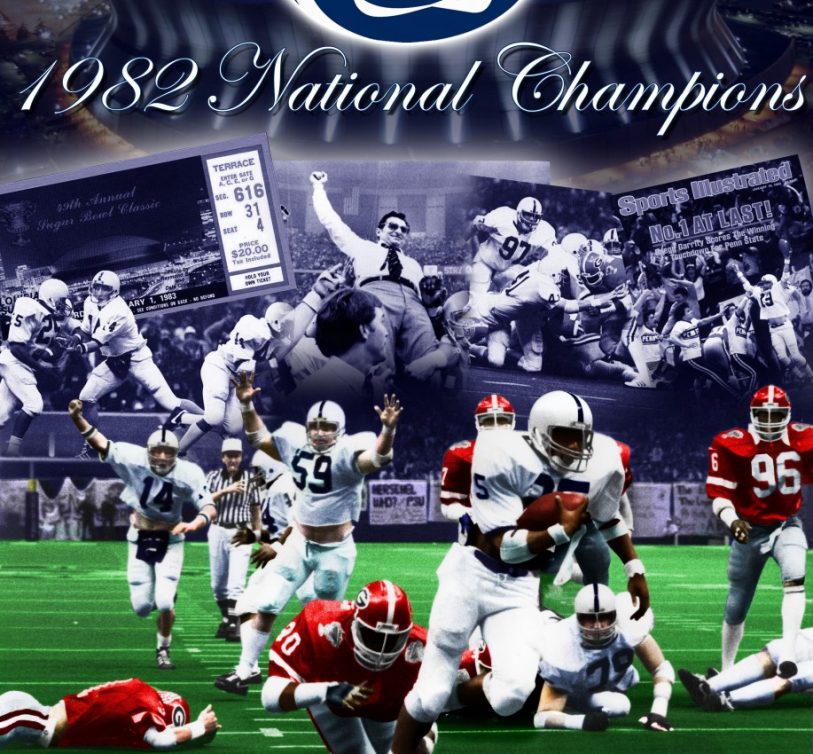 Fran Ganter's son Chris developed this brochure for our 30-year reunion, colorizing the bottom section which appears on the book sleeve. Blackledge and Battaglia certainly made their feelings known during the play.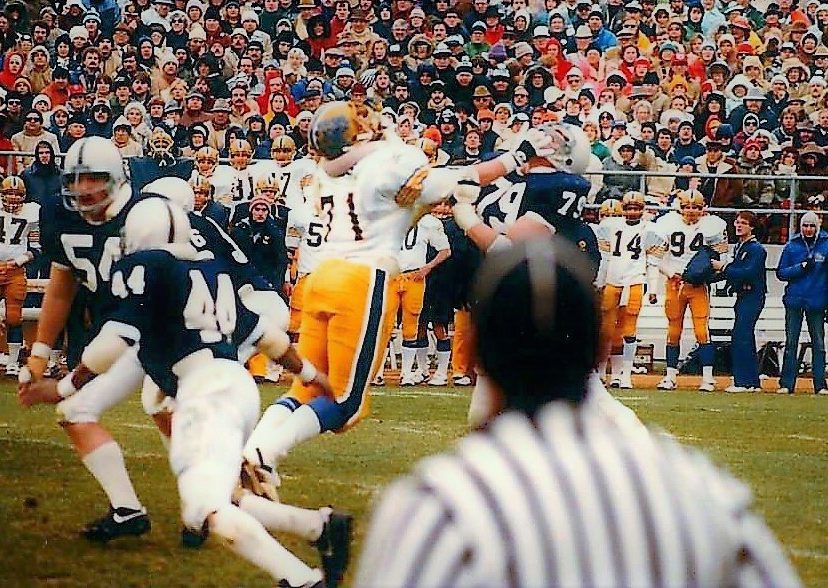 Bill Maas and I are just checking to see if we are both wearing mouthguards during the '82 game. When provoked Maas played as if he wanted to take your head off.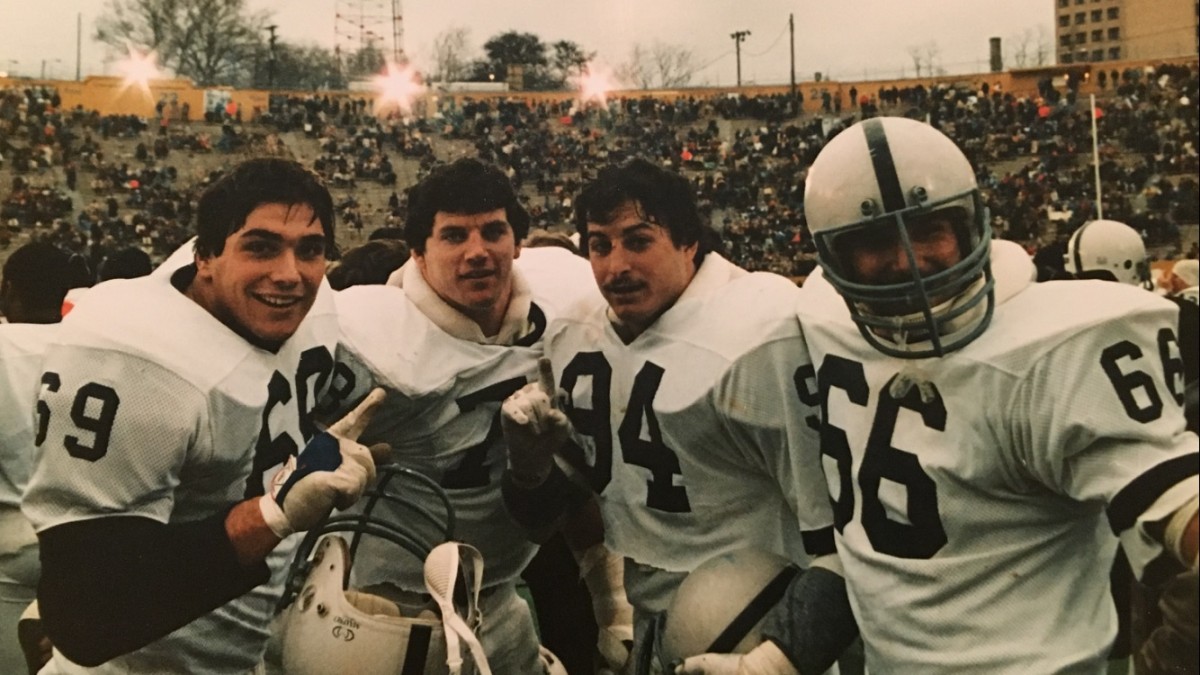 The Four Horsemen of the Pitt 48-14 Apocalypse ('81 seniors Wisniewski, Munchak, Parlavecchio & D'Amico) were the chief architects of one of the most lopsided losses ever suffered by any #1 team. This pic was snapped with about five minutes left in the game. Note the empty seats.
Bill Quinn and Dan Biondi celebrate in a joyous Sugar Bowl locker room.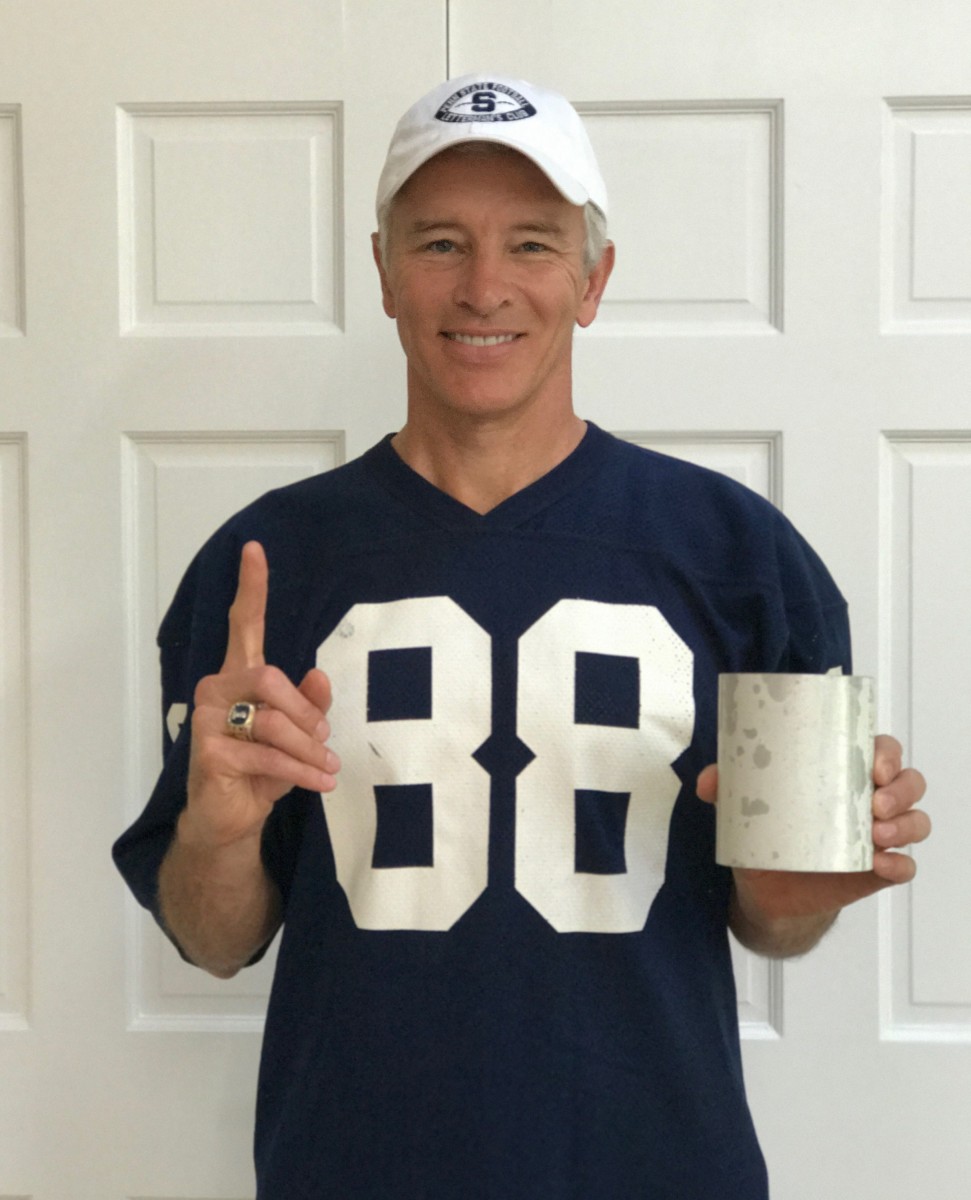 Dr. Al Harris is now a prominent dentist in New Jersey. He has a section of the goal post torn down after the '82 Nebraska game in his home office.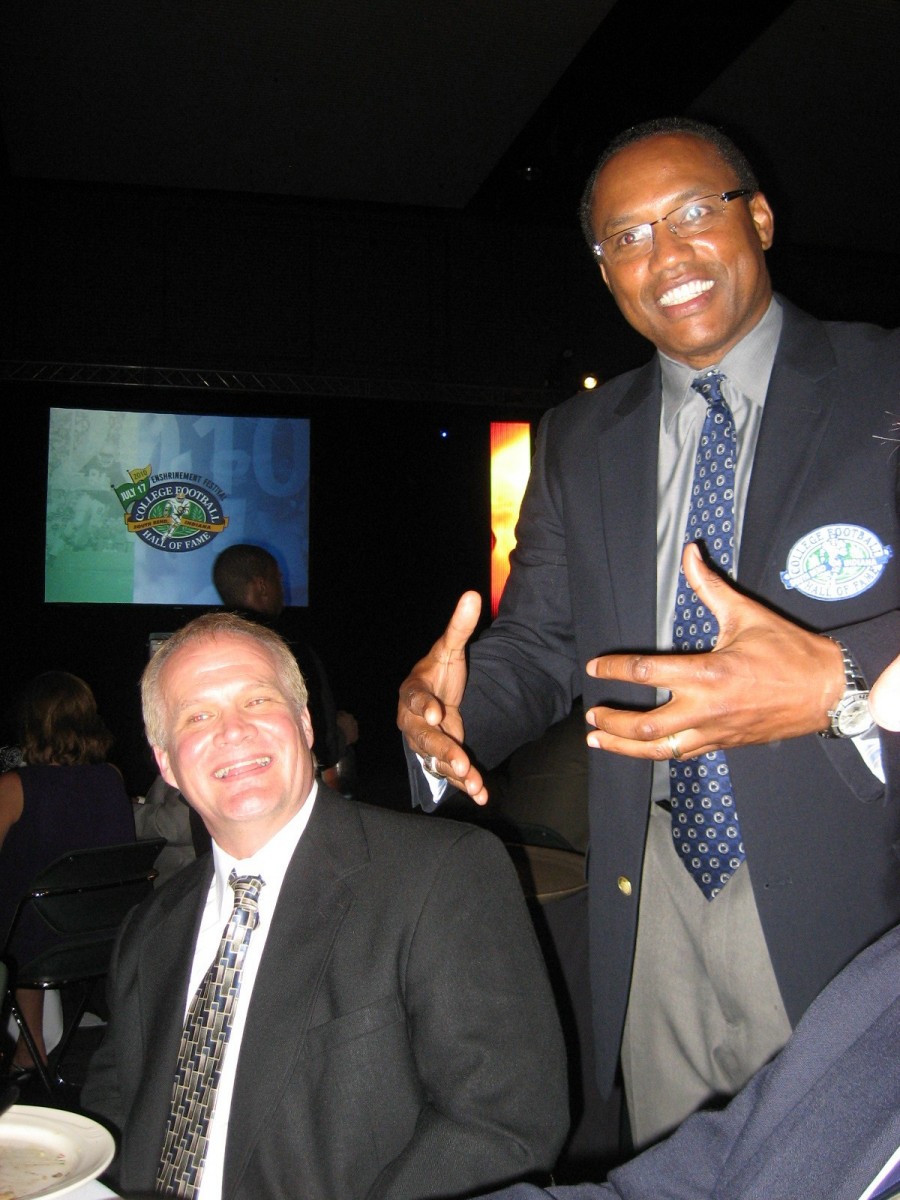 Jeff Butya (a.k.a. The Loose Bootay) shares a laugh with Curt Warner at the College Football Hall of Fame ceremonies in 2010.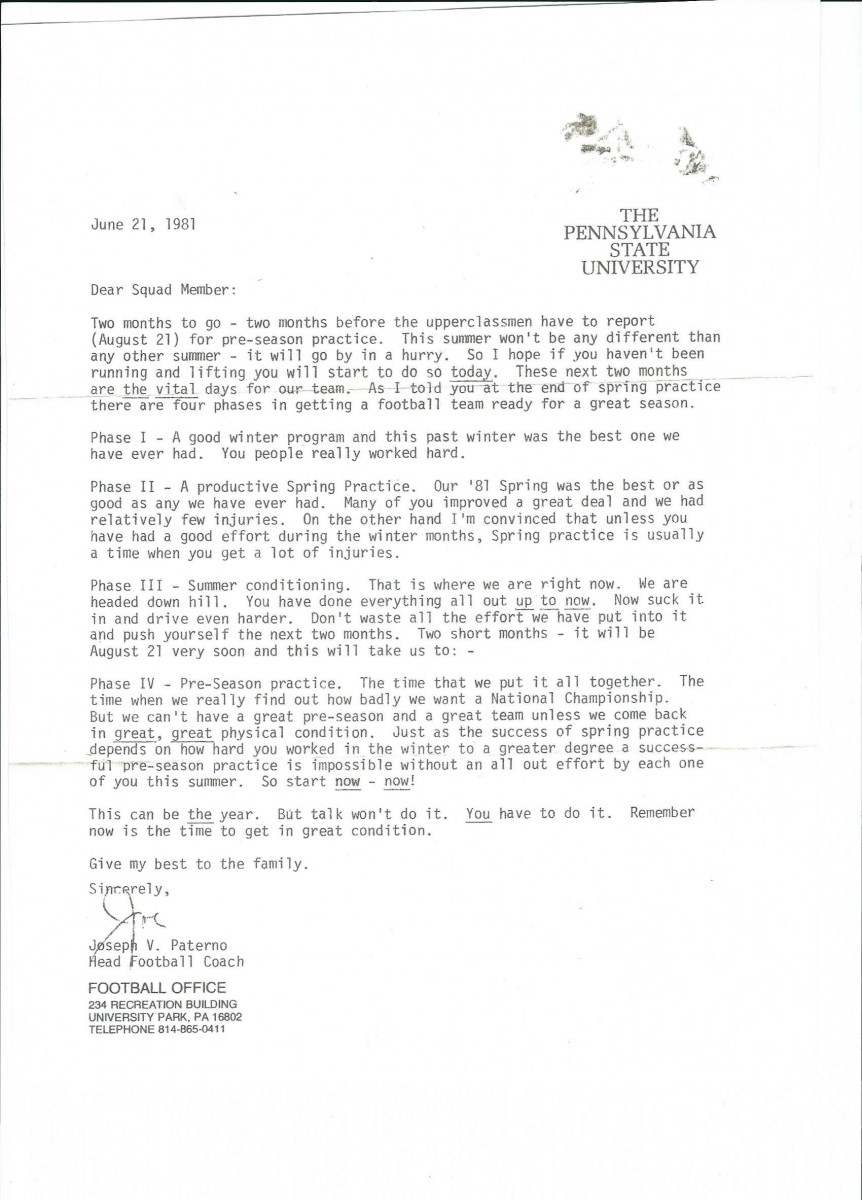 Joe's letter in the summer of 1981 makes casual reference to winning the national championship. To my knowledge it was the only time in my four years there that shared those types of observations in print with the squad.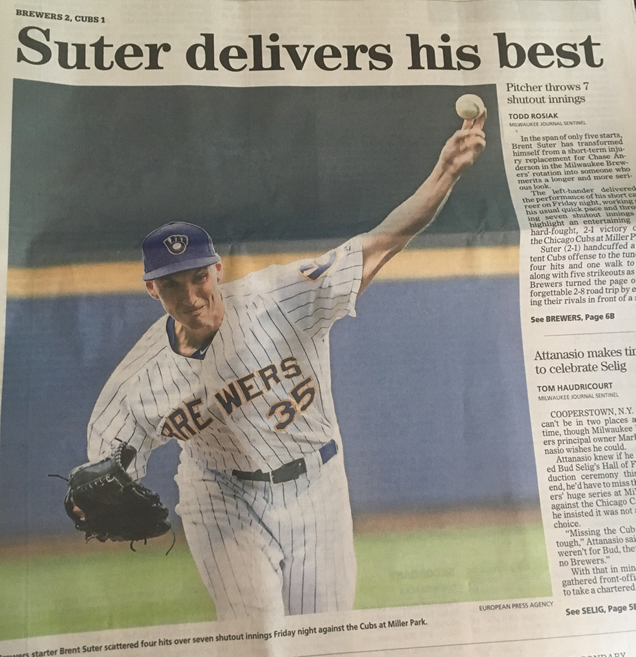 Mike Suter's son Brent is in the process of making his father's gaffe against Alabama back in '82 look like a distant memory.
The actual coin flipped prior to the start of the '83 Sugar Bowl courtesy of Ken Kelley.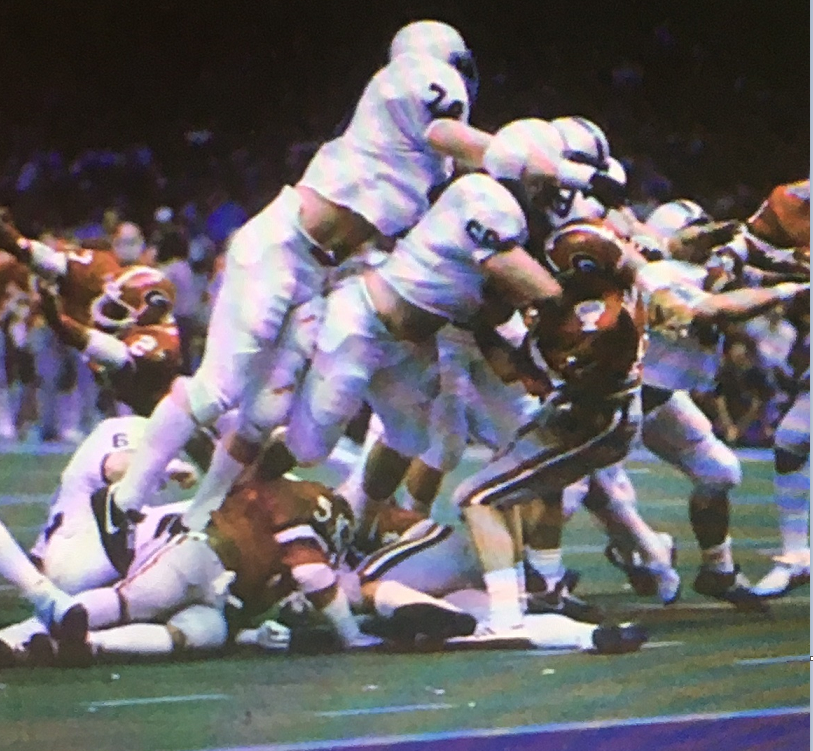 Georgia's All-American Terry Hoage had a knack for blocking kicks by jumping over the center so we attempted to 'discourage' that type of behavior. This pic shows the late Dick Maginnis with his forearm buried in Hoage's facemask. Since no Bulldog rushed the gap I was protecting I offered my assistance.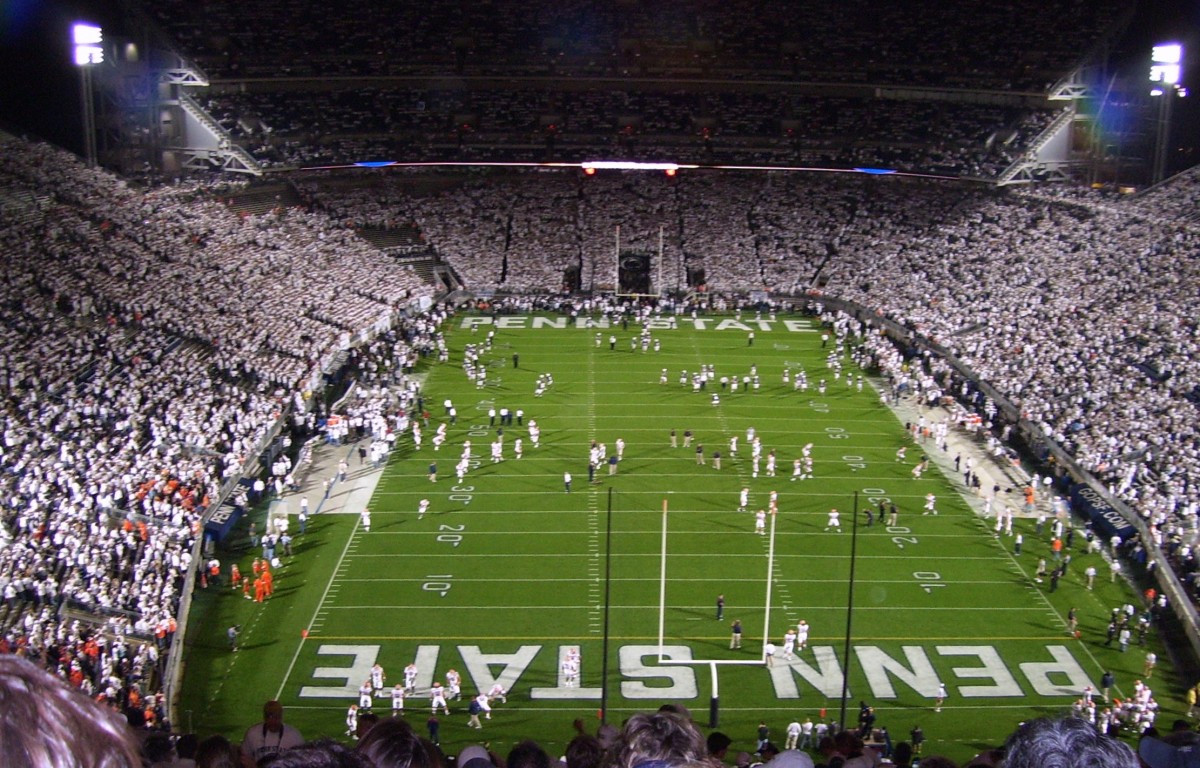 A white out Happy Valley is not a bad way to spend your Saturday night.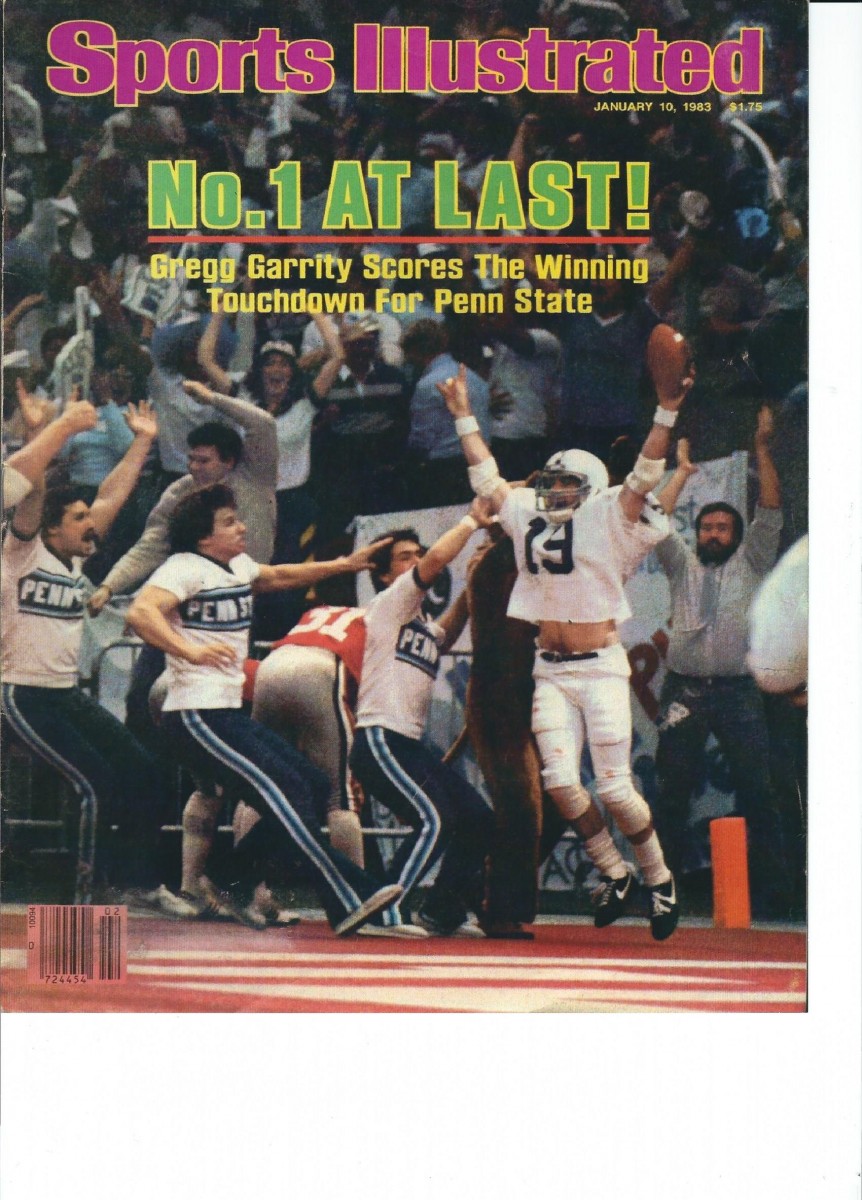 The walk-on that Syracuse recruiters said was too small to merit a scholarship offer was featured on the cover of Sports Illustrated four years later.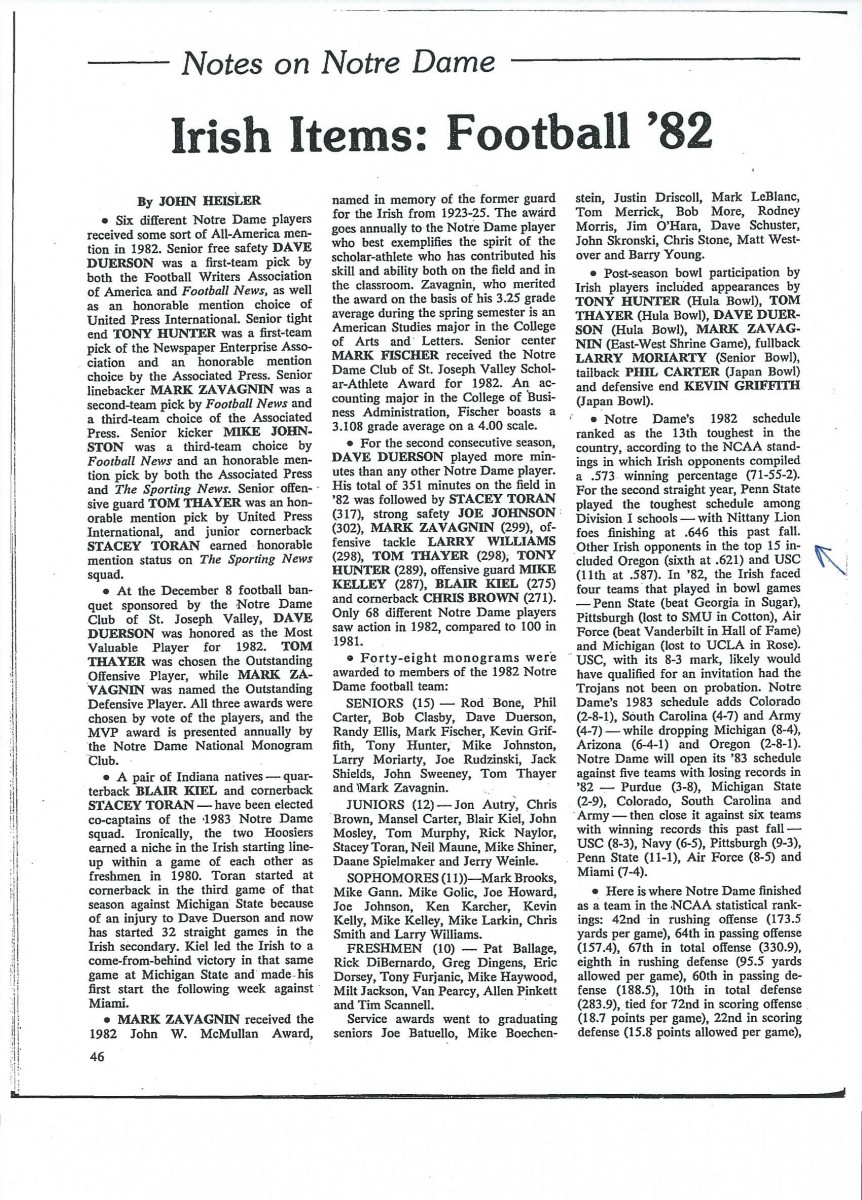 Notre Dame's Sports Information Department published a 1982 'Season In Review'. Upon closer inspection the author notes that Penn State played the toughest schedule in the country in both 1981 and 1982.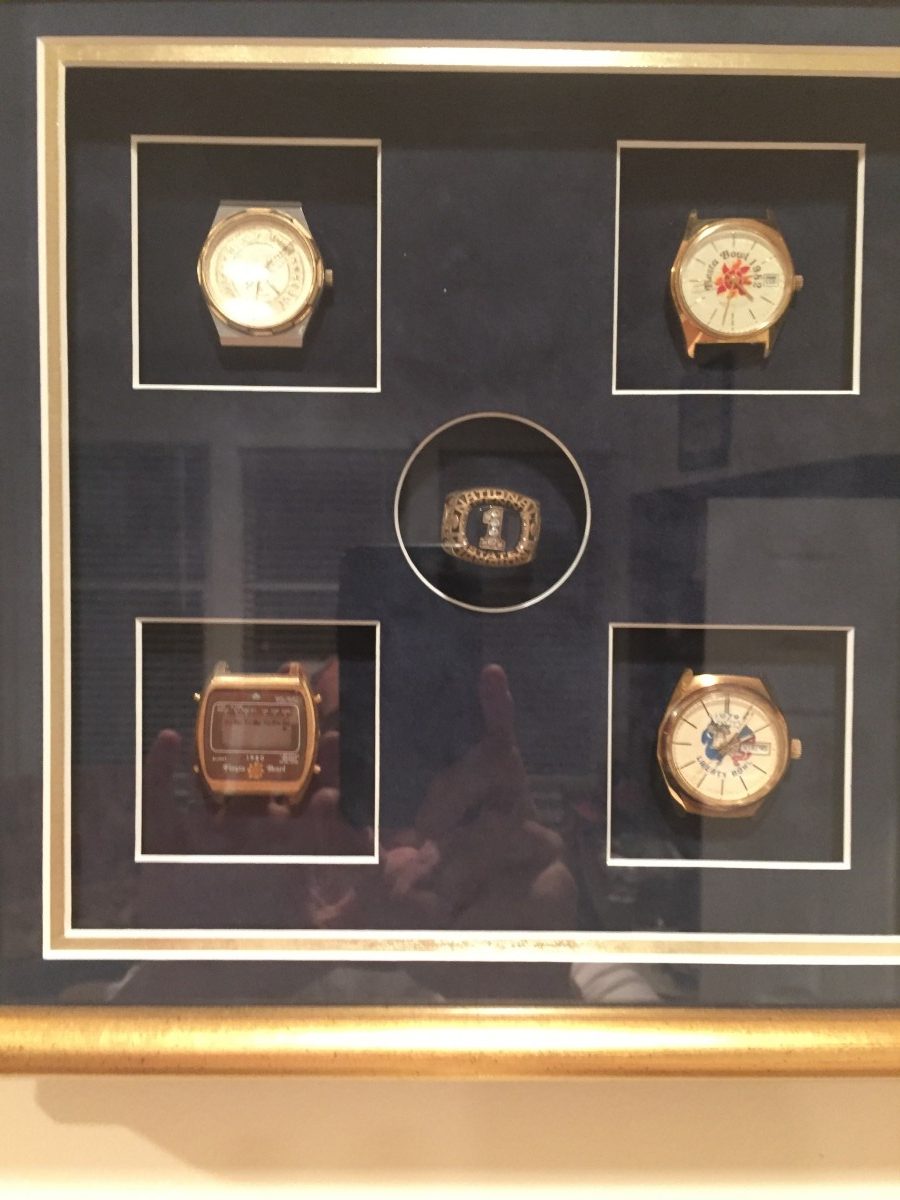 Pete Speros has a cool wall mount in his office which includes his four bowl watches surrounding his national championship ring.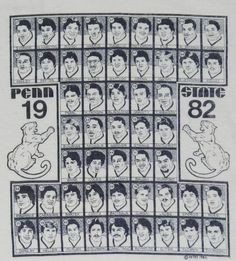 Vintage t-shirt Mike Dunlay found in his attic which was created from a page from an '82 game day program.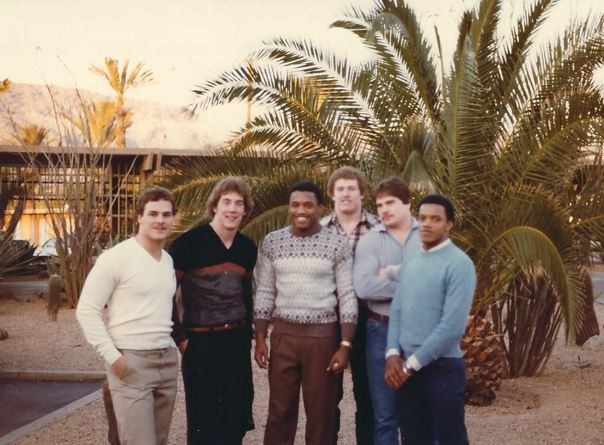 Ed Pryts, Todd Blackledge, Curt Warner, Ken Kelley, Mark Battaglia & Roger Jackson at the 1982 Fiesta Bowl (courtesy of Greg Golanoski).